Welcome to the AB PTA website!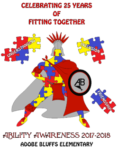 Adobe Bluffs Elementary School's 8th annual Ability Awareness Celebration is coming up! We'll start things off with a pancake breakfast fundraiser on Sat., Jan. 20, from 8-10 am at the Broken Yolk Café in Carmel Mtn Ranch. Tickets are $10. Look for a flyer in your child's red folder.
Then on Wed., Jan. 24, from 8:30-11:00 am, our students will rotate through stations to meet six inspirational guest speakers who experience various disabilities. Each will share his or her story in a positive manner in order to help students understand the power of individuals and their abilities, the importance of inclusion, and the value of diverse friendships.
If you are available to help out or if you have any questions, please contact Michelle O'Connor-Ratcliff (oconnor_mi@yahoo.com).